In Episode 25 of "The Lines Between Us," we looked at efforts to bring more more transparency and accountability to the process of paying CEOs at public companies.
CEO pay has sharply outpaced worker pay in the past few decades. What's the landscape here in Maryland?
You can read our full report here, at WYPR.org. But first, let's look at the numbers.
We put together lists of the biggest public companies in Maryland (from Forbes) and Baltimore (from Baltimore Business Journal), and dug into SEC filings to see what their CEOs were getting paid, and--now that the SEC requires shareholders to cast a non-binding vote up or down on CEO pay packages--what proportion of shareholders disapproved of the pay packages.
First: what they're getting paid.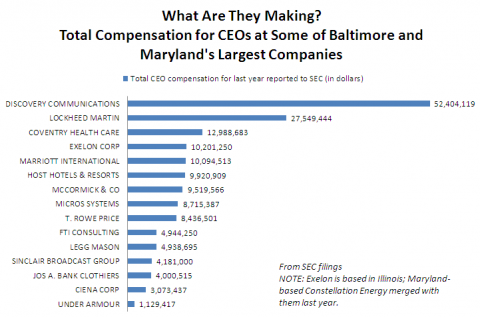 At the top of the list is David Zaslav, president and CEO of Silver Spring-based Discovery Communications. Zaslav had a salary in 2011 just under $3,000,000. But with stocks, options, and other compensation, his total haul was over $52,000,000.
At the bottom is Kevin Plank of Under Armour. Diane Pelkey, the company's Vice President of Events, Global Communications and Entertainment, e-mailed us that "several years ago our CEO Kevin Plank voluntarily reduced his salary to $26,000, which was his approximate salary when he founded our company.
"As our largest stockholder, she continued, "he believes he should be compensated as CEO not through salary but based on our incentive compensation programs that are tied to our company's performance."
Plank's total compensation for 2011 was $1,129,417.
How do shareholders feel about these pay packages?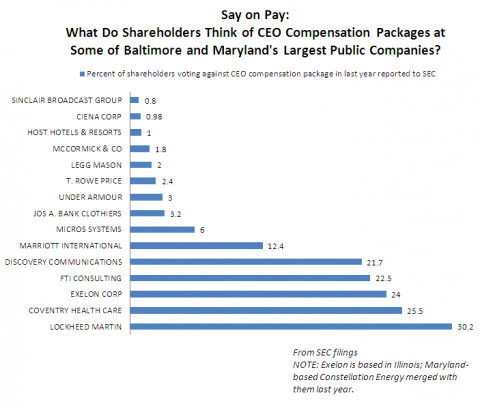 None of the packages were voted down. Of the 15 companies listed, nine had less than 1 out of ten shareholders voting no.
In 2011, after Lockheed Martin released its pay package in an SEC proxy filing, the influential proxy advisory firm Institutional Shareholder Services recommended shareholders vote against the package. Lockheed made some adjustments before the shareholder vote, and ISS reversed their recommendation. And ISS gave Lockheed Martin a thumbs-up right off the bat in 2012. Yet Lockheed Martin has had about 30 percent "no" votes for two years running. How will ISS and shareholders react to this year's pay package (which includes more CEO pay adjustments)? Lockheed Martin shareholders meet on April 25. ISS will release their recommendation about three weeks before that.
How does average worker pay compare to CEO pay at these companies?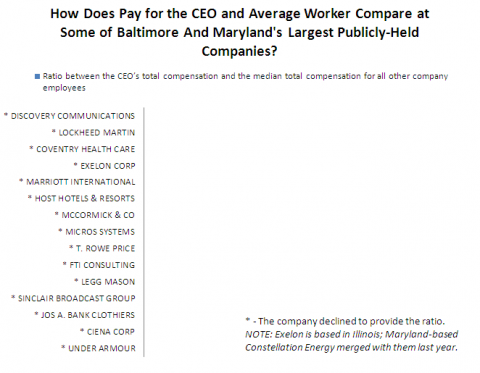 We requested from each company the ratio between the CEO's total compensation and the median total compensation for all other company employees. This is a figure that all publicly-held companies will be forced to disclose publicly...once the SEC finally writes a rule that the Dodd-Frank financial reform act requires they write.
None of the companies we contacted provided it.