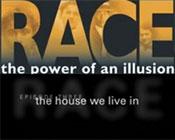 Please join us at 6:30 p.m. on Tuesday, December 4, for a screening of Race: The Power of an Illusion. This free event will be in the Wheeler Auditorium at the Pratt Central Library.
Race: The Power of an Illusion - free screening and panel discussion
Tuesday, December 4, 6:30 p.m.
Wheeler Auditorium
Enoch Pratt Free Library
400 Cathedral Street
Baltimore, MD 21201
This powerful hour-long documentary traces the effect of public policy—particularly in housing—on inequality in America. It features law professor john a. powell, a guest for the October 26 "Lines Between Us" segment about public housing, and it lays out at the national level many of the issues that our series is grappling with at the regional level.
Maryland Morning host Sheilah Kast will serve as moderator for the post-screening discussion. Panelists include:
- Diane Bell-McKoy, President & CEO, Associated Black Charities
- Bishop Douglas Miles, organizer of Baltimore's Koinonia Baptist Church and Clergy Co-Chair of Baltimoreans United in Leadership Development (BUILD)
- Michael Sarbanes, executive director, Baltimore City Public Schools' Office of Engagement and co-chair, Truth and Reconciliation Commission of the Episcopal Diocese of Maryland
Are you going? Head over to Facebook to "join" the event and share it with your friends!
This event is presented in partnership with the Enoch Pratt Free Library. Race: The Power of an Illusion was produced by California Newsreel.