With race-based affirmative action still being challenged in the courts, discussions are turning to whether class should be incorporated into affirmative action policies.
Stanford University professor Sean Reardon studies issues of race and class in education, particularly the achievement gap between students of color and white students. He says class has become a bigger driver of the achievement gap than race, and he tells Tom Hall what that means for higher education. Reardon also weighs in about the possible outcomes that could accompany class-based affirmative action.
Community leader April Yvonne Garrett and CNN writer John Blake share their own college experiences and give us their takes on the future of race-based affirmative action.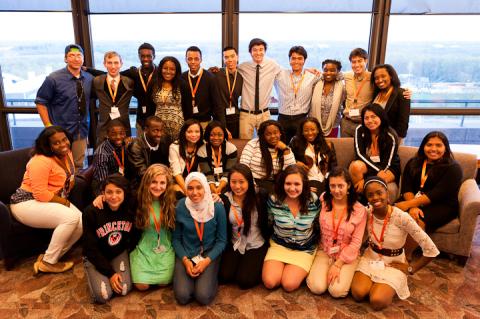 Then-As we consider the lines that divide us between race and class, we wanted to get the perspective of some young people who have given the issue of race a lot of thought. Every year, Princeton University awards the Princeton Prize in Race Relations to high school students from across the country who are working to improve race relations in their schools and communities. Two of this year's honorees are from Baltimore.
Evodie Ngoy, 16, is the winner of the 2013 Princeton Prize. On Monday, she'll begin her junior year at Digital Harbor High School in Federal Hill. She joined Tom Hall in the studio.
Iman Williams, 18, is one of the certificate recipients of this year's Princeton Prize. She graduated last spring from the Park School, a private school in Baltimore County. She joined us on the phone from Decatur, GA, where she is attending Emory University.
Reading between the lines
Tom discussed John Blake's post on CNN.com titled I was an affirmative action 'imposter' and April Yvonne Garrett tackled criticism of race-based affirmative action in her post on TheAYGList.com titled Entitlement, Affirmative Action, and the Real Cost of Racism.
To access more of Sean Reardon's research on class and the achievement gap, visit his Center for Education Policy Analysis page.
There were two other students from Baltimore who also were honored with a Princeton Prize. They are Michele Knee and Mahsheed Mahoar.
Evodie Ngoy has made five films, her latest The Paradise that Wasn't is posted on Vimeo. Iman wrote a Baltimore Sun editorial about the Dream Act, you can read that here.
Our guests made several points that could not make it on-air, but are worth a listen. Visit wypr.org's segment pages for web extras.