In this episode of "The Lines Between Us" we focus on neighborhood diversity. Baltimore residents share their perspectives on the changing racial and class demographics of some city neighborhoods.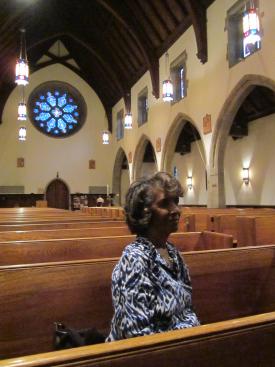 Inez Haynie-Dodson joined the wave of black families who started moving to Edmonson Village in the 1960s, which at the time had a predominately white population. As of 2010, black residents made up 97% of Edmonson Village's population, which illustrates a trend in the city--a lack of neighborhood diversity.
Haynie-Dodson is the daughter of parents who emigrated from the Turks and Caicos Islands and Antigua in the first part of the 20th century. She grew up in West Baltimore and said she remembered a time when racial integration was simply out of the question.
"This was a legally segregated city," Haynie-Dodson said. "I grew up on Harlem Avenue, it was one block off of Edmonson Avenue. At the time I was growing up, there wasn't an imaginary line-there was a definite line beyond which black eople could not go, could not live."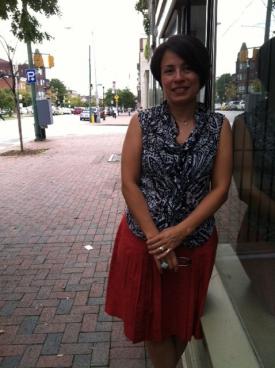 One community that has grown in diversity is Southeast Baltimore. When Evelyn Rosario moved from Guatemala to Fells Point in 1991, she said her street had a mostly black population and the area's Hispanic population was quite small.
"My neighbors were a white couple, other homes were mixed, there were not a lot of Latinos. For some reason Latinos were not thinking of staying or living in this area at that point. People liked the county areas because maybe they thought it was a little more safer."
To examine some of the factors that have led to neighborhood diversity or a lack of diversity, Sheilah talked with several guests in studio. Dr. Ed Orser, author of Blockbusting in Edmonson Village discusses the community's shift from a predominately white population to a predominately black population in a 10 year span. Orser said the similarities between whites and blacks living in Edmonson Village during its short period of integration were overshadowed by racial difference.
"In the initial period blacks moving in, typically, were [of the same] same occupational status, but whites didn't wait around to determine that," Orser said. "Whites had grown up in that world where they expected that they could live a very separate kind of life."
Glenn Ross is the president of the McElderry Park Community Association. He grew up in what is now the Berea neighborhood but has lived just north of Patterson Park for 30 years. Ross said that there is a culture clash in his neighborhood as the result of the area's growing diversity. White residents, black residents and Hispanic residents are living together, but Ross said that there is a disconnect as cultural differences and language differences divide residents.
"Ten, fifteen years ago is when we started seeing the movement of a lot of Latinos moving in and within that time period people [coming in] from public housing," Ross said. "It's kind of hard to organize people when you have so many dynamics coming in that's causing people to stay separated."
Baltimore City Councilman James Kraft, who represents most of Southeast Baltimore, said his community has seen an increase in Spanish-speaking residents in Fells Point, Patterson Park and Highlandtown. Kraft noted some tension between new residents and long-time residents, but he said the tension does not manifest itself physically.
"It is just in frustration. It's just that initial stress in that unknown between them," Kraft said.
In the last segment of this episode, Tom Hall speaks to two church leaders about the role of religious institutions in bridging divides within communities.
In November, Reverend Florence Ledyard and Reverend Eddie Blue will participate in a racial reconciliation workshop called "Seeing the Face of God in Each Other."
Ledyard is the rector of St. Bartholomew's Episcopal Church in Ten Hills, a neighborhood just outside of Edmonson Village. In 1965, Inez Haynie-Dodson became the first black parishioner at the church. Ledyard says the church has evolved to embrace diversity, which was not always the case.
"When that community [North Avenue] began to change color, the congregation chose to move out to its present location here on Edmonson Avenue," Ledyard said.
When West Baltimore grew to become a predominately black population, some members left, but many others stayed.
Nearby, Church of the Holy Trinity also suffered a split when the neighborhood of Bridgeview-Greenlawn shifted in racial demographics. Prior to 1953, the church had an all-white congregation. Reverend Eddie Blue is the current rector of Church of the Holy Trinity, which now has a predominately black population. He said his church has a dual purpose when it comes to diversity-to embrace people of various ethnicities, but to also sustain its ties to the black culture.
"If one thinks of all cultures as having been created by God, then certainly we can affirm cultures other than our own," Blue said. "We have an obligation to generations that succeed us to maintain our culture."