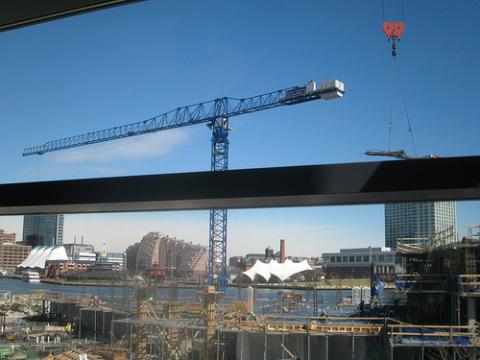 When big developments arouse the ire of neighborhoods, developers' strongest response is: "We have jobs." Today, "The Lines Between Us" investigates: do those jobs really materialize for neighbors?
First, reporter Melody Simmons looks at recent projects to see how often developers follow through on promises of jobs for city residents. Then, we'll get the specifics on local jobs at the westside "Superblock" development from three players. Carl Stokes represents the 12th District on Baltimore's City Council. Rev. Todd Yeary of Douglas Memorial Community Church is part of a ministerial alliance that negotiated a local hiring agreement with developer Lexington Square Partners. Bailey Pope is senior vice president for The Dawson Company, the development manager for Lexington Square Partners.
Visit wypr.org for Lawrence Lanahan's full report on developers and local jobs, including the full unedited interview with Pope, Stokes, and Yeary; an explanation of who will train workers not yet ready for Superblock jobs; and an update on the status of the property--located within the Superblock--that was the site of a 1955 civil rights sit-in at Read's Drug Store. You can download the local hiring agreement here.

Then: for the past 30 years Marian House has offered housing and rehabilitative services to women with a history of abuse, homelessness and addiction. To celebrate the 30-year-anniversary, the organization has released the book 30 Women, 30 Stories, which features 30 of the more than 1,000 women the organization has served. To talk about the women's journeys, Tom sits down with Katie Allston, the executive director of Marian House. Jamyla Kay's write-up on Marian House is at wypr.org.