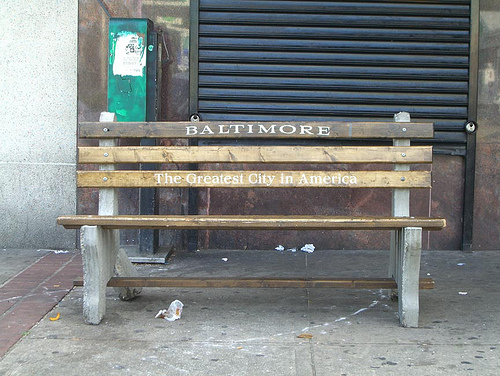 Last week on The Lines Between Us, we looked at how unemployment affects not just individuals, but communities. The week before, we looked at the path to employment: how to match the unemployed to the jobs that are available. This week, we're also looking at the path to employment, but we're taking the phrase more literally: how do we get people to the jobs and job training that are available.
There are many places, and many job opportunities, in the Baltimore metro area that you can't reach by public transit. So, does mass transit erase the lines between people who can afford cars and people who can't? And, how can we connect where the jobs are with where people live?
Adie Tomer, a Senior Research Associate at the Brookings Institution, joins us to talk about a report on how public transit and job opportunities match up in the 100 largest metro areas of the United States. And, we ask Michael Walk, Acting Director of Service Development for the Maryland Transit Administration, how the MTA connects low-income neighborhoods with jobs across the region.
Then, common financial knowledge dictates certain things are essential to building wealth and establishing a financial future. Among these suggestions: Owning a home and/or car, having money in a savings account, and contributing to a 401K. But what about those who rent, take public transportation, work part-time, or those who don't even have a savings account? How do low-income or moderate-income individuals build assets?
To discuss some of the challenges that may prevent individuals from building wealth, Tom talks to Althea Saunders-Ranniar, the director of financial services at "Our Money Place." The non-profit is a program of the Bon Secours Working Family Initiative.
For many people, receiving a tax refund presents an opportunity to get ahead financially. How can that one-time windfall impact one's financial future? Sara Johnson, executive director of "Baltimore CASH Campaign" talks to Tom about the ways in which individuals of various income brackets can invest their refund to benefit their future.