Audio for this segment will be posted by the end of the day.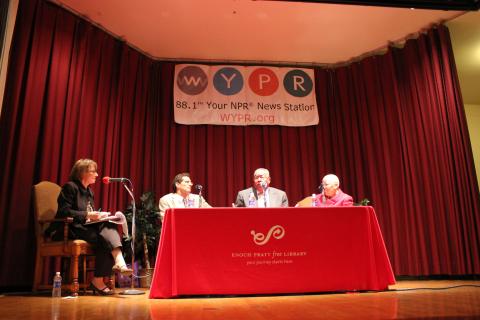 When developing "The Lines Between Us," the 2003 film "Race: The Power of an Illusion" was viewed and discussed by the staff as we explored which topics the series should examine further and on a local level.
We wanted to share this film with Baltimore residents in order to generate a larger discussion about some of the themes the series has covered in the first 10 weeks.
A crowd of about 75 people gathered inside the Wheeler Auditorium at the Enoch Pratt Free Library in Baltimore for the Dec. 4 film screening and panel discussion. After the film was screened, the panelists took to the stage to address questions by Sheilah Kast and questions from the audience.
Panelists
Diane Bell-McKoy, president & CEO of of Associated Black Charities.
Bishop Douglas Miles, organizer of Baltimore's Koinonia Baptist Church and the former Clergy Co-Chair of BUILD-Baltimoreans United in Leadership Development.
Michael Sarbanes, executive director of Baltimore City Public Schools' Office of Engagement.
The panelists and audience raised several important points that could not fit into the on-air segment. Below are some additional questions and comments from the discussion.
Acknowledging priviledge
When Sheilah asked Diane Bell-McKoy about the response to the film from civic leaders who attended the "Aspen Institute Seminar," Bell-McKoy said people's perceptions changed as a result of the seminar and from continued conversations about inequality.
"What a number of people of white privilege identify that they got out of the Aspen Institute and continued conversations is they went 'Oh my God, I didn't realize that repeated assault, that impact of structural and institutional racism happens in terms of policy from a historical perspective," Bell-McKoy said.
Bell-McKoy said that those who attended who were impacted immediately, as well as those who were less engaged at the time, are still trying to determine what more they can do to confront the issues discussed at the seminar.
"[They] are now trying to figure out how do we change the lens both of white privilege and the lens of people of color to understand that this thing that has been invisible is really visible and it's hurting us."
"If it's gentrified and black, it's a ghetto."
One audience member submitted a question which read "The gentrified neighborhoods in Baltimore, I believe, are historically white [including] Canton, Federal Hill, Fells Point. Have any black neighborhoods gentrified?"
Michael Sarbanes said some parts of Federal Hill were the oldest African-American neighborhoods in Baltimore City. He suggested that historical details such as eminent domain and road construction needed to be taken into account before the question could be fully addressed. Bishop Douglas Miles, however, provided a quick answer.
"If it's gentrified and black, it's a ghetto," Miles said. "That's just the reality, I don't care what the income level is. Ashburton which is largely an African-American middle-class community is not a community that a white middle-class family would opt to move into-they would go to Fells Point."
Sarbanes acknowledged the demographic trends of certain neighborhoods but said that there is certainly more flexibility as to who can choose to move into a neighborhood.
"There has been more growth in areas that are historically perceived to be white, that's probably true, although many of those areas actually have become non-white areas," Sarbanes said.
Bell-McKoy was not convinced that evidence of black neighborhoods becoming gentrified could be proved.
"I think the answer to the question is no."
Schools
The topic of schools came up several times during the 50 minute discussion. Members of the audience pressed for answers as to why a number of Baltimore City schools, particularly those in low income areas, have deteroriated structurally and in quality.
Sarbanes said that the question of "How did it get so bad?" gets asked at almost every community forum for the Baltimore City Public Schools' 10-year plan.
"The way in which money has flowed over the years in terms of really being focused on areas where there was growth, which was primarily in the suburbs is one of the things that happened with it, " Sarbanes said.
Sarbanes said the lack of local money allocated for school construction pales in comparison to other large Maryland cities.
"The city gives about the same amount relative to its' wealth base as other jurisdictions. The amount of money that comes for school construction from local sources in Baltimore is about a tenth of what it is in other large jurisdictions in the state."
Sarbanes said the current plan for schools would "allow Baltimore schools to have the best 21st century buildings in the state."
Bishop Douglas Miles said he remembers a time when parents were fighting to get their children into Baltimore City schools, not out of them.
"People in the county would lie about their address to get their children in Baltimore city schools," Miles said. "As the system became more black, the city and the state divested the Baltimore City school system rather than investing in it to keep it where it was, money was taken out."
Youth
One point that seems to be a point of contention in the city is the construction of a new youth jail. Sheilah addressed the divisions among social activists who are trying to address inequality and work together to stop the state from building the facility for juvenile offenders charged as adults.
Adam Jackson, CEO of the group Leaders of a Beautiful Struggle, contends that non-profit organizations that are comprised of white people who are not invested in a community, should not be the sole decision-makers on issues which directly impact black communities.
Bishop Miles chose not to weigh in on that fascet of the discussion and instead focused on what he ultimately wanted to see accomplished, or not accomplished.
"I just hope that the jail doesn't get built, I don't care who takes the credit," Miles said.
Applause rose from the audience.
"Those resources could be much better spent investing in our young people, especially at a time when we're closing recreation centers, cutting funding for after-school programs, not building affordable housing for young families," Miles said. "There is something wrong when you have a jail called 'baby booking,' and if that new [jail] is built it's going to be called the same thing and it just becomes a place to warehouse our young people rather than giving young families and the children of this city a decent shot at life."
Listen to the entire 51 minute discussion here.