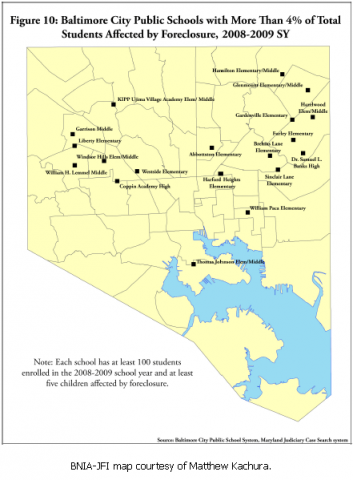 One subject we didn't have time for in today's episode was the impact of foreclosures on children.
Sadly, the crisis has lasted long enough to assess that impact. The Brookings Institution found more than 8 million children affected by foreclosures in the U.S.
Here in Baltimore, the Baltimore Neighborhood Indicators Alliance, housed at the University of Baltimore's Jacob France Institute, pulled down some numbers on local children.
BNIA project manager Matthew Kachura authored a report called Children and Foreclosures: Baltimore City; An Examination of Students Affected by Foreclosures, 2003-2008.
Three percent of Baltimore public school children are affected by foreclosure in a given academic year. In 2008-09, that added up to 2,400 children. Almost every school had at least one of these children--the average was 12 per school.
The problem is that families in foreclosure often move, sometimes out of a school district. Then the children lose their friends, their adult role models, and they may encounter new textbooks and lesson plans. It can all add up to academic, social, and behavioral problems.
In the interview above, Kachura tells us about Baltimore's "children of foreclosure," and how researchers, schools, and housing counselors are collaborating to find a solution.